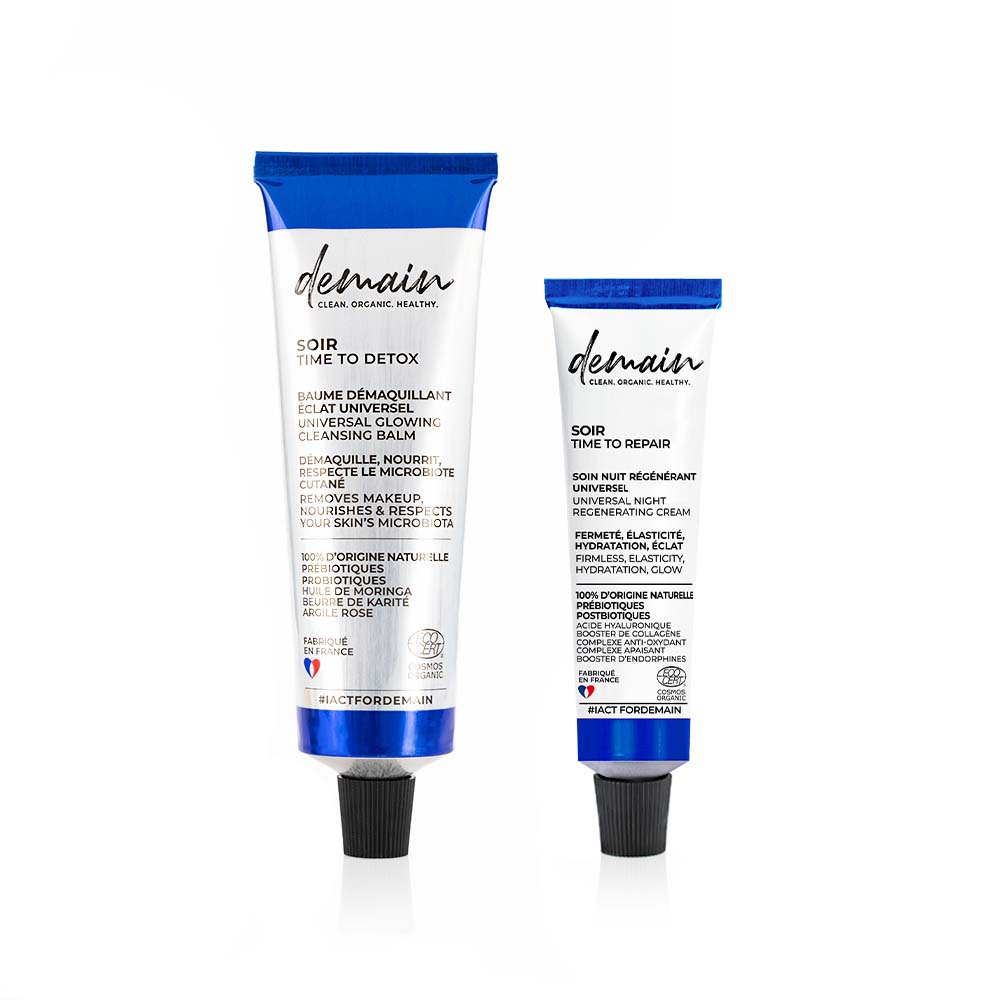 EVENING BEAUTY ROUTINE
Universal Radiance Cleansing Balm — 100ml
Regenerating Night Care — 40ml
Eliminates pollution, dust, makeup and all the impurities accumulated throughout the day while nourishing the skin and preserving the skin microbiota.
WHAT HE DOES
Thanks to this evening routine, your skin will be soothed and repaired.
Rid of make-up and impurities, hydrated, nourished and regenerated, the skin regains its natural radiance.
COMPOSITION
The evening routine is composed of 2 products 100% of natural origin and certified COSMOS ORGANIC by Ecocert.
No gender, all ages, all skin types!
FREQUENTLY ASKED QUESTIONS
YOUR UNIVERSAL EVENING ROUTINE

No ingredients harmful to health, no ingredients derived from chemicals or petroleum and 0% palm oil in our formulas.

100% natural and organic*
Our formulas are 100% natural and certified organic COSMOS ORGANIC by Ecocert*.

Our products are suitable for everyone, regardless of gender, age or skin type.

100% of our packaging, ingredient and product suppliers are French.
Probiotics
Cleansing balm + Regenerating treatment
Accelerate cell renewal.
Increase protein production.
Increase enzyme production.
Rich in vitamins A, E, F and latex.
Nourishes the epidermis in depth.
Deeply hydrates the epidermis.
Rich in monosaturated fatty acids.
Anti-inflammatory properties.
Repairs the skin barrier.
Detoxifies cells while activating collagen synthesis.
Wrinkles decrease in depth and volume in 2 weeks.
Oil rich in vitamin E & essential fatty acids.
Regenerates the skin barrier, maintains skin elasticity & protects against external aggressions.