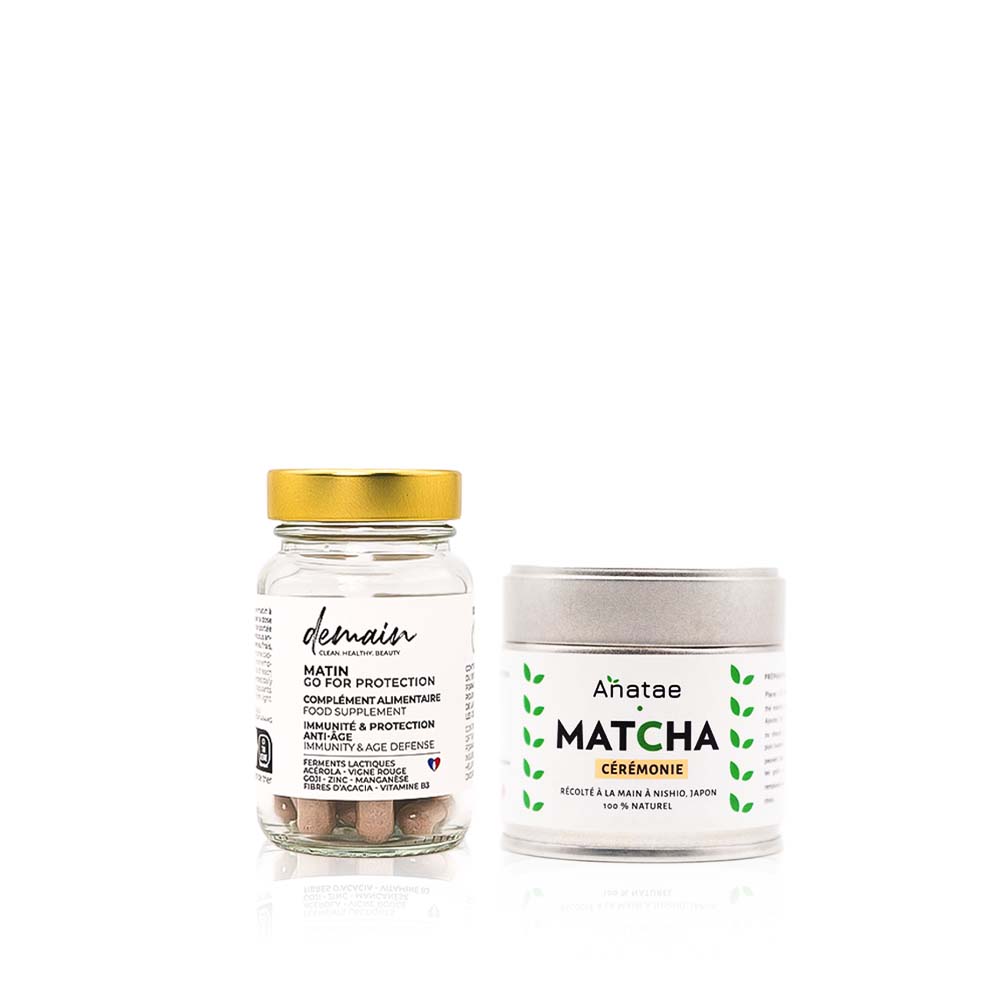 SUPER DETOX ROUTINE
Go for Protection Food Supplement + Matcha Tea
This duo strengthens the immune system, helps the body better protect itself from external aggressions that accelerate skin aging, helps boost collagen production and reduce fatigue.
WHAT HE DOES
10 BILLION PROBIOTICS!
This food supplement is very rich in prebiotics and probiotics, full of active antioxidants and is an important source of Vitamin C.
It helps fight against oxidative stress, strengthens the immune defense system, boosts energy and balances the intestinal microbiota.
It acts from the inside in perfect synergy with the GO FOR PROTECTION day care.
Organic Anatae Ceremony Matcha tea is very rich in antioxidants. It also helps protect the skin from free radicals, boost the immune system and reduce fatigue.
COMPOSITION
You will find all the information on the products of this duo below:
USAGE TIPS
DIETARY SUPPLEMENT:
1 capsule to be taken in the morning on an empty stomach with a large glass of fresh water. In cure of 3 months, to renew if necessary after a break of 1 month.
Do not exceed the recommended daily dose. Keep out of reach of children.
Pregnant and breastfeeding women are advised to consult a health professional before any supplementation. Not intended for young children.
Food supplements should be used as part of a healthy lifestyle and do not replace a varied and balanced diet. Store in a cool, dry place, away from light.
THE MATCHA
Place 1/2 teaspoon of matcha tea in the bottom of a bowl. Add 60ml of water at 75°C max. and whip.
FREQUENTLY ASKED QUESTIONS
Why take a food supplement to take care of your skin?
Cosmetics are applied to the skin and allow it to defend itself effectively against these attacks. This external application is an excellent first step but "leaves" the dermis and the hypodermis which nevertheless have their role to play in ensuring the skin is in full health. It is on these layers that nutricosmetics will intervene. How ? By providing the vitamins, minerals and active ingredients the body needs to deeply revitalize all layers.
How long to take a dietary supplement?
It is often advised to take your food supplements in cure of 3 months and to renew after 1 month if the problems persist. If you are taking GO FOR PROTECTION to boost your immunity, we advise you to take a cure during the winter periods (autumn and winter). On the other hand, if you take GO FOR PROTECTION to preserve the youthfulness of your skin, we advise you to use it all year round.
Why take GO FOR PROTECTION on an empty stomach in the morning?
Probiotics are living and therefore fragile microorganisms. Taking them at the same time as a hot drink would totally destroy them.
Why mix probiotic strains in a food supplement?
The richness of the microbiome depends on the number of bacteria but also on the diversity of strains it contains. Antibiotics and other antibacterials destroy certain strains that weaken our body. It is therefore very important to ensure the diversity of strains present in the body. Moreover, each strain has its own activity. Mixing the strains therefore makes it possible to act on different issues: immunity and digestive comfort, for example in GO FOR PROTECTION.
Is GO FOR PROTECTION organic?
To be certified organic, a food supplement must contain 95% of ingredients from organic farming. 67% of the ingredients contained in GO FOR PROTECTION are plants from organic farming. The rest are probiotics (lactic ferments), vitamins and non-certifiable nutrients. We have favored everything in 1 capsule (probiotics + organic plants) over certification for your daily comfort and savings.
Is GO FOR PROTECTION vegetarian/vegan?
Yes ! This was one of the important points for us when developing our formulas. GO FOR PROTECTION is vegan, cruelty free, GMO free, gluten free and its capsules are 100% vegetable.
Are the results immediate?
How quickly our food supplements will work depends on each person. Some will see the result in a few days, others in a few weeks. What is certain is that they depend on the regularity with which they are taken. Listen to your body and you will know! Moreover, food supplements are aptly named, they complement a balanced lifestyle. We support you in your change, the more you are involved, the more you will see measurable results.
I am pregnant, can I take GO FOR PROTECTION?
No contraindication has been found against pregnant women. But we still advise you to consult your doctor to avoid any interaction with another drug.
I have trouble swallowing my capsules, what should I do?
No worries, you can open your capsule and mix its contents with yogurt, compote or any other food of your choice.
No ingredients harmful to health, no ingredients derived from chemicals or petroleum and 0% palm oil in our formulas.

100% natural and organic*
Our formulas are 100% natural and certified organic COSMOS ORGANIC by Ecocert*.

Our products are suitable for everyone, regardless of gender, age or skin type.

100% of our packaging, ingredient and product suppliers are French.
Accelerate cell renewal.
Increase protein production.
Increase enzyme production.
Known for its high vitamin C content.
An ideal supplement in case of fatigue or overwork.
Strengthens the immune system.
Powerful antioxidant.
Allows you to repel the signs of aging.
Contains polyphenols and flavonoids.